LOCAL - PASSIONATE - FUN
WORDS TO LIVE BY - WORDS WE LIVE BY
Larry Dizmang: Winemaker Uncorked
Born in Ottawa, Kansas in 1937, Larry's talents in agriculture were cultivated at a young age. When he was only 5 years old, he planted his own "Victory Garden" during WW2 and has been an avid gardener ever since.
When he was 9, Larry's family made the move west to California and settled in the Napa Valley when prunes, walnuts, and pears were the primary crop there (little did he know wine would sweep both the Napa Valley and his life years later!). Throughout high school, Larry was a serious pianist but decided to hone his focus on school when he became a pre-med student at Berkley.
In 1961, Larry graduated with a degree in medicine from the University of California, San Francisco. He then began an extensive career in psychiatry that ranged from the National Institute of Mental Health, where he spent time working on American Indian Reservations, to the Chesapeake School for Emotionally Disturbed Children in Annapolis, MA. While living on the Chesapeake Bay in the 1970's, Larry sailed to work daily and became a passionate sailor.
Something to Wine About:
In 1977, Larry returned to California and started the now infamous winery, Folie'a Deux, in Napa in 1981. It's no surprise that his journey led him into wine. Mention winemaking and Larry Dizmang's eyes will light up. He's been known to say that "both winemaking and psychiatry require as much art as science."
His passion and skill for winemaking became apparent when just a few years after he started Folie'a Deux he won the Sweepstakes (that's the hightest honor given) at the California State Fair of 1985 with his 1983 Chardonnay. The Wine Spectator listed him as having one of the three best Chenin Blancs for three years in a row in the mid 80's.
Larry Dizmang at the Old Sugar MILL:
Larry spent 20 years as a Chief Psychiatrist with the Napa Department of Corrections but his thoughts were never far from the world of wine. After retiring from the medical field, he and his partner, Karan, decided to embark on their next adventure together and founded Rendez-vous Winery in 2011 to get back to the roots of what he loves – winemaking. Chenin Blanc is one of his passions so it came as no surprise that he decided to utilize only local Clarksburg fruit from a region that has been dubbed the Chenin Blanc Capital of the USA. He did it again and struck gold with his 2016 Viognier, winning Best White Wine (Best of Show) in the entire state of CA at California State Fair Wine Competition in 2016. In 2017, he won best Riesling in the state. He likes to say it just keeps getting better and that age improves with a good Rendez-vous!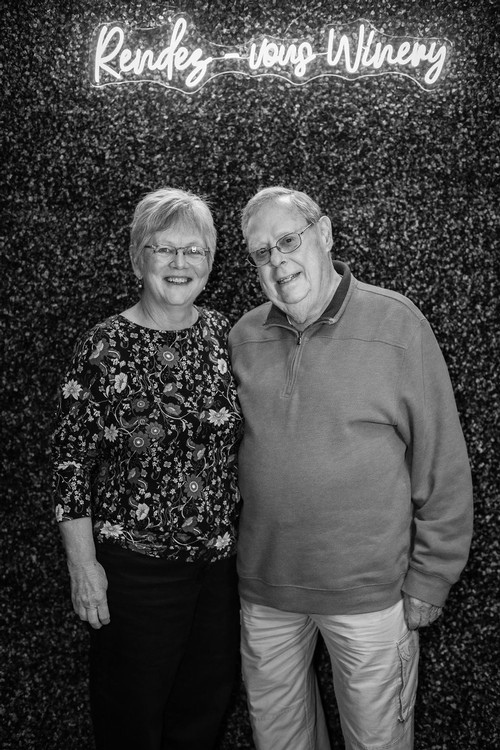 He and Karan enjoy the quiet life in Napa Valley, sipping the fruits of their labors and spending time with their family and grandkids.
COMING SOON - THE SHOP IN MIDTOWN:
We're always ready for a new adventure. Join us as we open a second location in a cool old 1940's Auto Shop downtown. More info coming soon!