Club de Vin Spring Pickup Party
| | |
| --- | --- |
| Date: | Sat, Mar 7, 2020 - Sun, Mar 8, 2020 |
| Time | 11:00 AM to 3:00 PM |
| Contact: | Lindsay Tucker |
| Phone: | 916-744-1991 |
| Email: | lindsayrvw@gmail.com |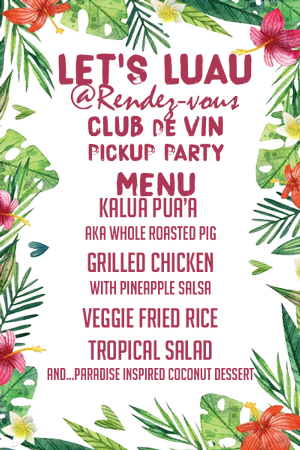 Club de Vin Members: Save 20% on tickets ​(You must be logged into your account for discount to apply. If this is your first time on our new website, you must reset your password to log in.)*
REGULAR TICKET SALES: (sale ends 3/5/2020) Ticket Price: $17
WEEKEND OF TICKET SALES: (3/6-3/8/20) Ticket Price: $20
*Limit: 6 tickets
WHAT'S IN YOUR WINE CLUB SHIPMENT PICKUP?
We're so excited about this shipment and think you will be too. Every wine in your shipment is BRAND NEW! Here are the wines:
---**NEW** '19 Cabernet Rose
---*NEW* The Preserve Ruby Port
Club de Vin Spring Shipment charge will be processed on Monday, March 2nd
MENU:
Inspired by Paradise. Handcrafted to Pair with Rendez-vous Wines.
We try to accomodate dietary restrictions when possible! Please email jenrvw@gmail with any dietary special requests.
FAQS
WHO:
Club Pickup Parties are exclusive for Club de Vin members and their guests with a limit of 6 people per reservation.
WHAT:
Wine Club Pickups occur 3 times a year. For every Pickup we host a party at the Old Sugar Mill. You enjoy decadent food pairings created specifically to enjoy with all four wines in your shipment.
WHERE:
FOOD in the Barrel Room (across the hall from Rendez-vous Tasting Room) and MUSIC on the Wine Terrace (through the back doors of the Rendez-vous Tasting Room...pending rain).
WHEN:
Saturday OR Sunday March 7th & 8th from 11AM - 3PM
WHY:
Club Parties are how we show our appreciation to our amazing Club Members! We love seeing our members and your guests- you are our Winery family.
Questions?
Email Lindsay Tucker at Lindsayrvw@gmail.com or call the Winery 916-744-1991