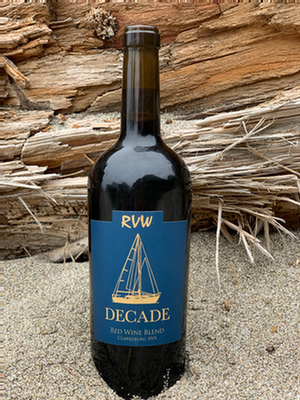 ---
---
- CELEBRATING A DECADE -
2022 CALIFORNIA STATE FAIR WINE COMPETITION - SILVER - 91 POINTS
BEST OF CLASS OF APPELLATION
2023 SAN FRANCISCO CHRONICLE WINE COMPETITION - silver - minimalist label
ONE DECADE AGO...ON BLACK FRIDAY WEEKEND, WE OPENED OUR DOORS FOR THE FIRST TIME. LARRY DIZMANG, OUR PRIMARY WINE MAKER, AND HIS PARTNER KARAN POST TOOK A LEAP OF FAITH AND STARTED A LITTLE WINERY NESTLED INSIDE THE OLD SUGAR MILL CALLED RENDEZ-VOUS WINERY.
LARRY AND KARAN EMBARKED ON THE JOURNEY WITH TWO GOALS IN MIND. LOCAL HIGH QUALITY WINE THAT SHOWCASES WHAT THE TINY REGION OF CLARKSBURG HAS TO OFFER & THE IDEA THAT THEY WANTED TO MAKE WINE TASTING FUN.
WE'VE NEVER LOST SIGHT OF THAT VISION.
10 YEARS (ONE DECADE) LATER, WE PULLED OUT ALL THE STOPS AND ORCHESTRATED A LITTLE SURPRISE. WE STEALTHILY BLENDED LARRY'S FAVORITE WINES AND DESIGNED A SECRET LABEL THAT PAYS HOMAGE TO HIS TRUE PASSIONS: WINE AND SAILING. WE DECIDED TO NAME IT "DECADE".
WE SURPRISED HIM IN NOVEMBER 2021 AT WHAT HE THOUGHT WAS A STAFF HOLIDAY PARTY BUT WAS ACTUALLY A MULTI COURSE MEAL (BRIMMING WITH GLASSES FULL OF "DECADE") TO HONOR HIS RENDEZ-VOUS LEGACY WITH OUR STAFF, PAST AND PRESENT. THIS WINE, THIS WINERY, THIS DECADE HAS SEEN US THROUGH SO MUCH AS A RENDEZ-VOUS FAMILY. WEDDINGS, BIRTHS, FUNERALS, MOVES, AND EVERYTHING THIS LAST YEAR HAS BROUGHT WITH IT. DECADE EMBODIES ALL THOSE DREAMS AND HOPES, WRAPPED UP IN ONE PRETTY BOTTLE.
WANT TO SEE DECADE PARTY PICTURES? CLICK HERE
THIS WINE IS ALSO A WAY TO SAY THANK YOU FOR ALL YOUR SUPPORT OVER THE LAST DECADE. WE INVITED YOU ALL ALONG FOR THE JOURNEY AND BOY, DID YOU GUYS SHOW UP. WE ARE SO THRILLED TO FINALLY BE ABLE TO SHARE THIS WINE WITH YOU AND CAN'T WAIT TO HEAR ABOUT THE MEMORIES YOU MAKE WITH IT.
OK, ENOUGH OF THE SAPPY STUFF...LET'S TALK WINE!
DECADE IS A MILESTONE FOR OUR LITTLE CLARKSBURG WINERY. CRAFTED ENTIRELY FROM CLARKSBURG FRUIT, DECADE IS A MAGICAL EXPRESSION OF WHAT OUR TINY AVA HAS TO OFFER.
2018 WAS A BEAUTIFUL YEAR FOR CALIFORNIA WINEMAKING WITH NO HEATWAVES AND GORGEOUS WEATHER THAT ALLOWED FOR GENTLE RIPENING. DECADE IS A RICH BLEND OF 2018 PETITE SIRAH AND 2018 PRIMITIVO THAT WAS BARREL AGED IN FRENCH OAK. THIS FULL BODIED RED WINE BURSTS WITH HINTS OF DARK CHERRY AND OAK, HAS A PLEASING TANNIN STRUCTURE, AND FINISHES LONG WITH FLAVORS REMINISCENT OF DARK CHOCOLATE AND BLACK FRUIT.
OUR WINEMAKERS' ADRDENT ATTENTION TO TENDING THE WINES AND THE FINAL BLENDING MADE AN EVOCATIVE WINE THAT JUST BEGS FOR LINGERING DINNERS, SUNSETS ON THE DELTA, AND LAUGHTER WITH FRIENDS AND FAMILY.
---
THIS IS LARRY THE MOMENT HE REALIZED THAT THE SAILBOAT ON THE LABEL IS THE EXACT MODEL THAT HE USED TO SAIL DURING HIS DAILY COMMUTE ON THE NANTUCKET BAY YEARS AGO