Night out at The Shop
Paella Dinner
Club Member Exclusive Event!
CLUB DE VIN MEMBERS, JOIN US FOR AN EXCLUSIVE PAELLA DINNER AT THE SHOP!
THIS IS THE PERFECT OPPURTUNITY TO VISIT OUR NEWEST LOCATION, ENJOY A GREAT MEAL AND TASTE AND PICK UP YOUR FALL CLUB ORDER.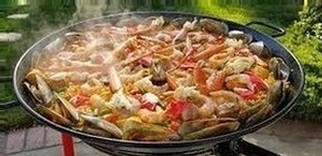 ---
EACH TICKET INCLUDES:
-HEARTY PORTION OF SEAFOOD PAELLA CREATED BY HOOKED ON PAELLA, INCLUDING SOURDOUGH BREAD AND A SIDE OF OLIVES
-TASTING FLIGHT OF THE 4 WINES IN YOUR FALL PICK UP FOR UP TO 4 PEOPLE
-INDOOR OR OUTDOOR SEATING AVAILABLE
-ADDITIONAL WINE BY THE GLASS, BOTTLE, AND WINE FLIGHTS ARE AVAILABLE FOR PURCHASE AT YOUR CLUB DISCOUNT
-TRY ONE OF OUR "SHOPTAILS" A TAKE ON A CLASSIC COCKTAIL OR A WINE SLUSHIE
---
THE FINE PRINT:
-MEAL DOES INCLUDE SEAFOOD - CUSTOMIZATIONS ARE NOT AVAILABLE ONSITE. -Club de vin exclusive event. not a member? join here
-LIMIT 4 TICKETS PER PERSON
-ONLY 50 TICKETS AVAILABLE FOR THIS EXCLUSIVE EVENT
-CLUB DISCOUNT IS APPLIED TO TICKETS ONCE YOU ARE LOGGED INTO YOUR ACCOUNT WITH THE EMAIL ON FILE.
-ALL ORDERS MUST BE RECEIVED NO LATER THAN WEDNESDAY OCTOBER 18.
TICKETS NOT AVAILABLE AT THE DOOR.
Product Reviews